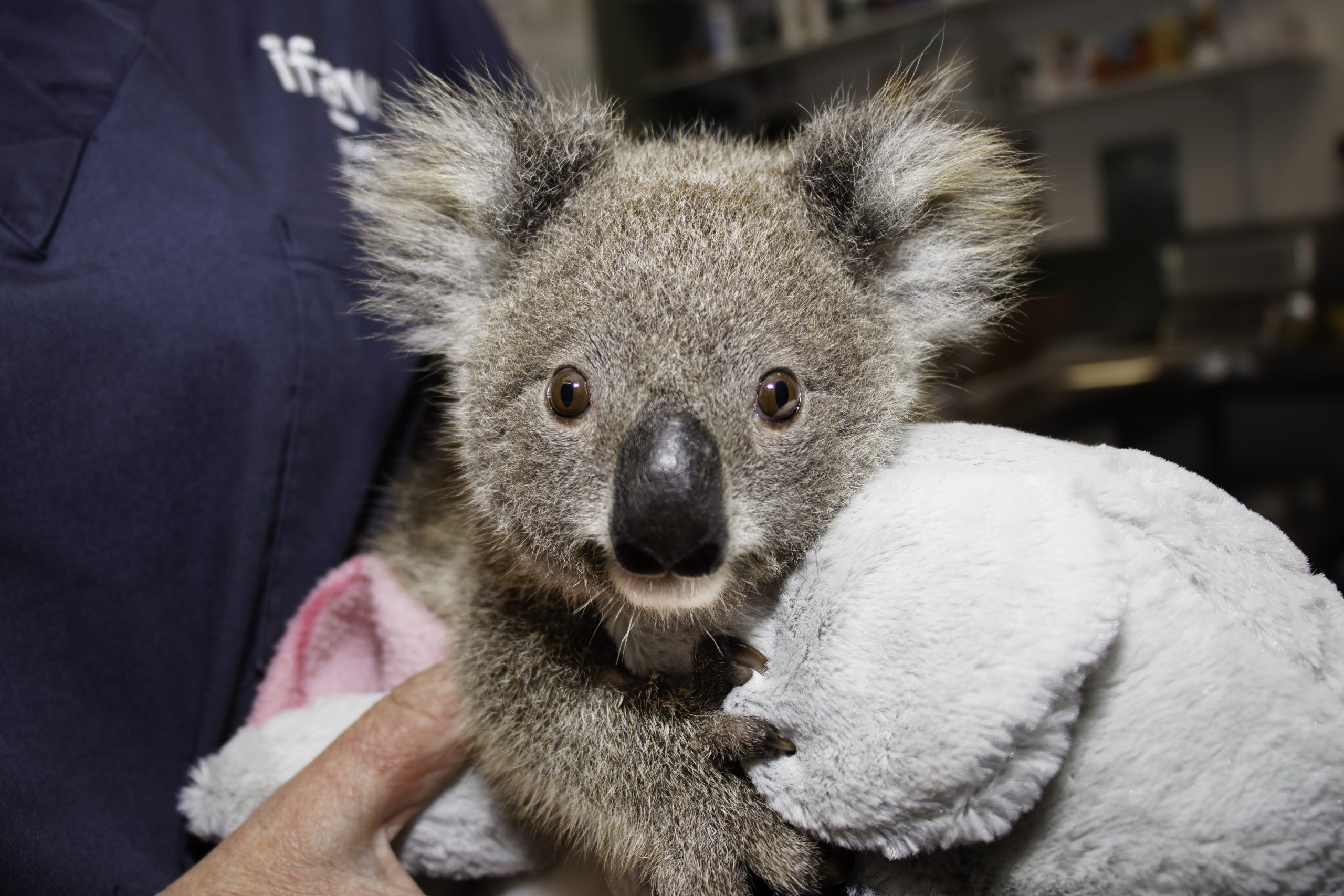 Pala has been in care since April and is our newest joey to join FOK Kindy. He was found by a member of the public walking through a paddock in Larnook. Startled by a barking dog, the baby koala ran out of the grass and straight up the man's leg – did he think the human was a tree!? Unfortunately, no mother koala could be found and Pala was admitted to the hospital for assessment and care.
After a thorough check up, Pala was given the all clear by our IFAW sponsored veterinary team. He was found to be in good body condition and all of his tests came back with healthy results. It was assumed that the mother and her back young must have been separated from each other in an unfortunate accident as we could tell Pala had been well looked after in the wild.
Weighing just over a kilo and only eight months old, Pala was too young to be by himself without a mum, so he initially went in to homecare with Liz, an experienced joey carer, before being transferred to Kindy with the other boys – Gulliver, Keogh, Nexus, Scampi and Magnus (quite the boy tribe!). Since then, he has been thriving in the care centre, thanks to the diligent attention of our volunteer koala carers.
Pala is now ten months old and weighs over two kilograms. At this age, he is ready to be weaned off his milk and will just eat leaf (and the occasional mouthful of dirt). Next week, he will be adorned with a microchip and ear tag and a trip up to Pottsville is planned so that he can be given his first chlamydia vaccination. A final vaccination will then be administered four weeks later to boost its protection against the disease. When he is a bit fatter (around 2.5kg) and the weather is warmer, Pala will be ready to have a go in the wild.
Thanks to Dr Michael Pyne from Currumbin Wildlife Hospital and Professor Ken Beagley from QUT, all of our joeys are eligible for chlamydia vaccination through their joint research program. We have fully vaccinated nine koalas over the past four months and are very excited to be protecting our koalas against this deadly disease. This way we are maximising their chances of a healthy future and we are so pleased to be doing everything we can to ensure our koalas have the best chance of survival in the wild upon release.
Jodie Wakeman
Veterinarian (Research & Partnerships)