OPTION 1


Delivery by email
$10 per month, or
$50 for a one-time adoption
OPTION 2


Delivery by post
$20 per month, or
$100 for a one-time adoption
CHARLOTTE
I was rescued in January 2018, when I was found alone in the middle of a busy road. I was born with hip dysplasia and have trouble jumping like other koalas, so I am a permanent resident here at Friends of the Koala alongside my BFF Ivy
ADOPT CHARLOTTE!
Gulliver
Found wet, cold, and alone after the northern rivers flood. I was lucky to be rescued and treated at the Koala hospital. I am a true success story and was released back into the wild in August 2022
ADOPT GULLIVER!
Waratah
I was very young when my sick mum was rescued and admitted to FOK Hospital. Luckily, I was still healthy in her pouch, and I quickly adjusted to the loving care I received by my foster mum in home care. Eight months later, in June 2023 I was big and strong enough to be released back to the wild where I have been sighted since high in the trees.
ADOPT WARATAH!
WILD KOALA
I am loving life out in the wild! So far I have been able to avoid the common threats to koalas: disease, car hits, dog attacks, natural disasters and other unfortunate injuries and incidents
ADOPT WILD KOALA!
Dobby
At just seven months of age, a member of the public found me in East Coraki. Friends of the Koala team were able to find my mum and reunite us, so that I can grow up naturally and have the best chance of thriving in the wild.
ADOPT DOBBY!
Kookie
! was rescued in September 2022 after a truck hit my mum. I am now full time in Koala Kindy and my best friends are Magnus and Rafa. Even though I am the smallest in care, I am usually found at the top of the ladder. Soon I will head off to a plantation, where I can explore the wild
ADOPT KOOKIE!
IVY
I was rescued in May 2020 after my mum abandoned me in a cow paddock. I have mild hip dysplasia, which means I cannot jump and struggle to climb. The likelihood of me surviving in the wild is slim, so I call Friends of the Koala home!
ADOPT IVY!
PALA
I came to Friends of the Koala in November 2021 from Larnook. I was a young joey who suffered from mild dehydration. I was very active at home-care and couldn't wait to join the crew in Koala Kindy. After loving care and holidaying in the Kindy Plantation, I was released back into the wild.
ADOPT PALA!
EMBER
I came to Friends of the Koala after being rescued from the devastating fires in Whiporie, NSW, in 2020. My health improved, and I made a full recovery thanks to the expertise of the veterinary team. I was released back into the wild and have now been spotted with a joey of my own!
ADOPT EMBER!
MAGNUS
I was a pouch young joey that may have been abandoned by my mum when I was rescued in October 2021. When I was big enough for release, it took me longer than most to understand that I needed to find my own food in plantation. I really did love being fed easy fresh leaf in the FOK care centre. After a few failed attempts I am now out living a happy wild life.
ADOPT MAGNUS!
TEMIKA
After my mother was hit by a car, I was lucky to be protected in the pouch and rescued. I was only five months old at the time and spent over 7 months in FOK Koala Kindy, learning all the skills I would need for the wild. I thrived in care, growing strong and healthy. Thanks to the dedication of my carers, I was fully vaccinated and successfully released in January 2023.
ADOPT TEMIKA!
KEOGH
I came to Friends of the Koala from Cawongla with my mother Meggs when I was still a baby on her back. It wasn't long before I joined the others in Koala Kindy where I learnt how to interact with other koalas. In September 2022, they successfully released me back into the wild.
ADOPT KEOGH!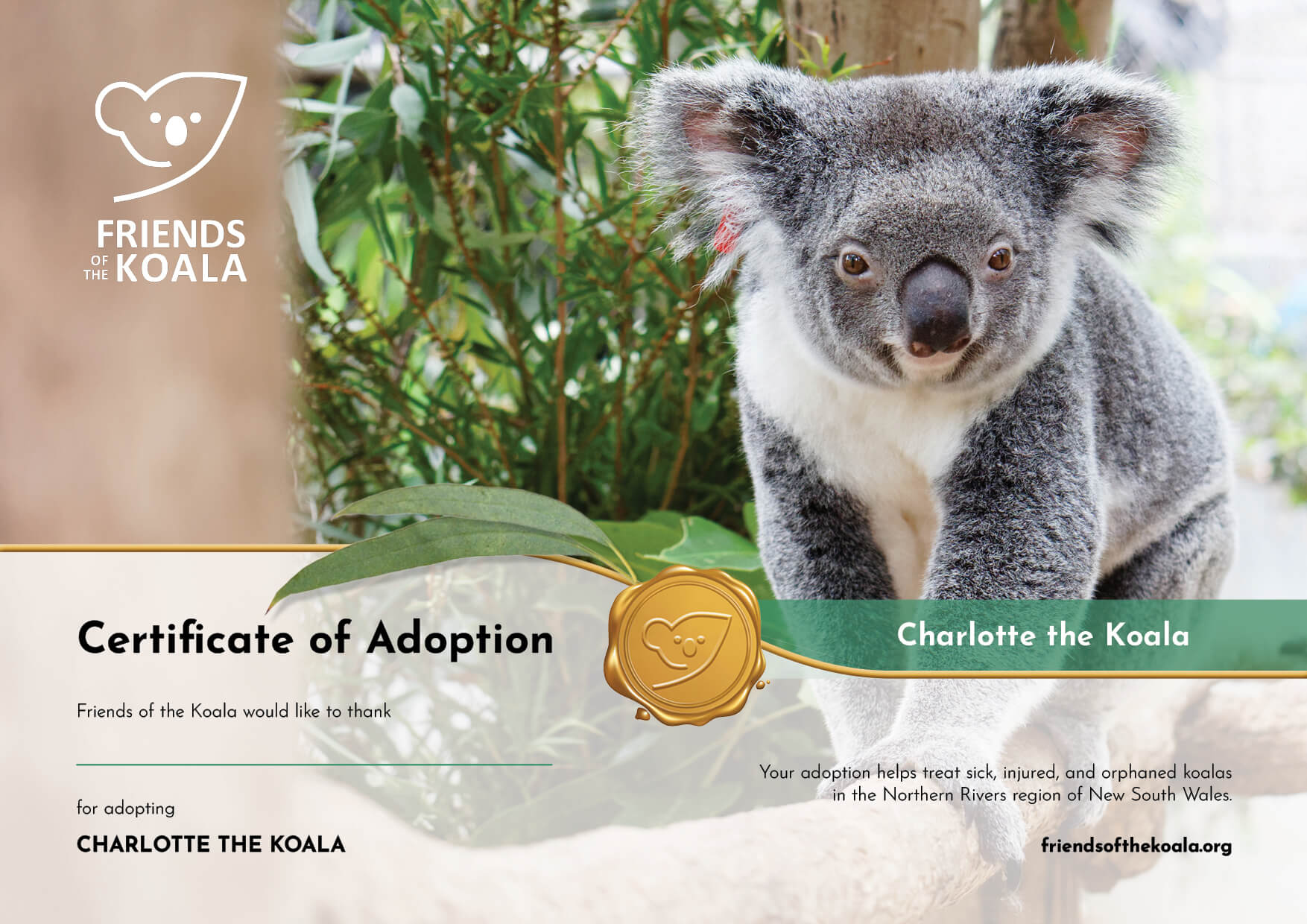 A stunning personalised certificate.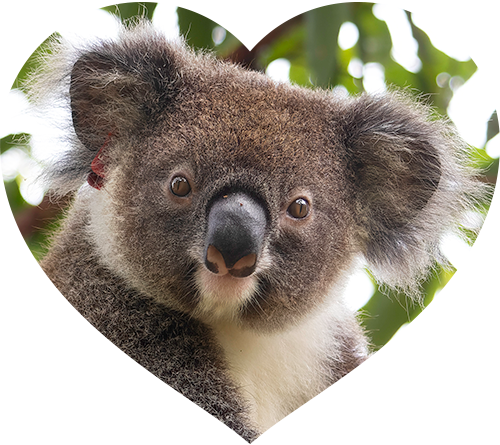 For helping to save the species!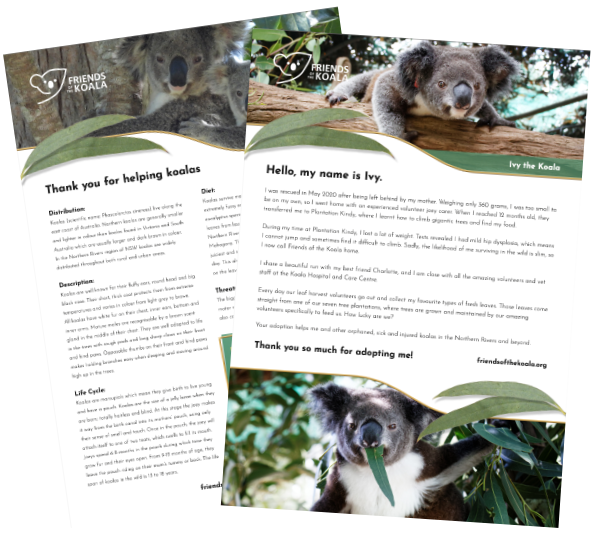 A detailed history of your koala, with plenty of fab facts.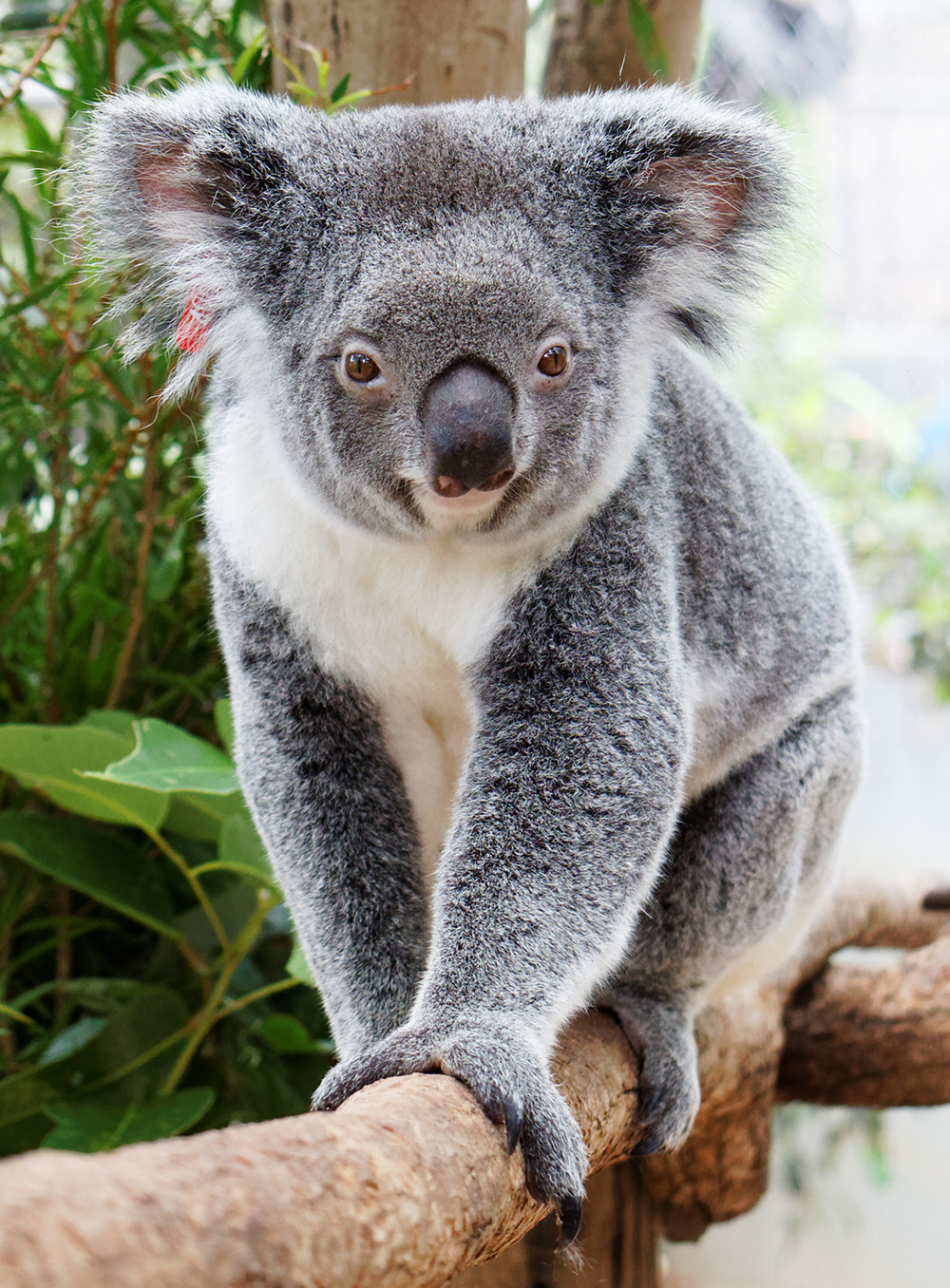 Koalas are on the brink of extinction.
PLEASE HELP US ENSURE THEIR SURVIVAL!

Scientists forecast koalas will be extinct in New South Wales, Australia by 2050 unless there is significant action to prevent the loss of their habitat.
Devastating bushfires in 2019/2020 damaged their native environment and killed at least 6,000 koalas in New South Wales alone.
Despite these tragic events and the declining number of koalas, there is hope… with the right conservation efforts, we can save and even repopulate this species.
When you adopt a koala through Friends of the Koala, you directly support the action needed for our precious koalas to survive.
"Friends of the Koala's holistic approach to koala conservation is something IFAW champions because we share the belief that koalas are ambassadors for Australian wildlife. When we protect them and their habitat, we give countless other animals the chance to thrive."
- International Fund for Animal Welfare
"Friends of the Koala in Lismore is doing a herculean job caring for sick and injured koalas."
WWF-Australia
"With koalas recently being listed as Endangered under our national environment law, the life of every individual koala matters. To see them here in care at Friends of the Koala, happy and healthy, really does give me hope for a better future for them."
Dr Prishani Vengetas, WWF-Australia