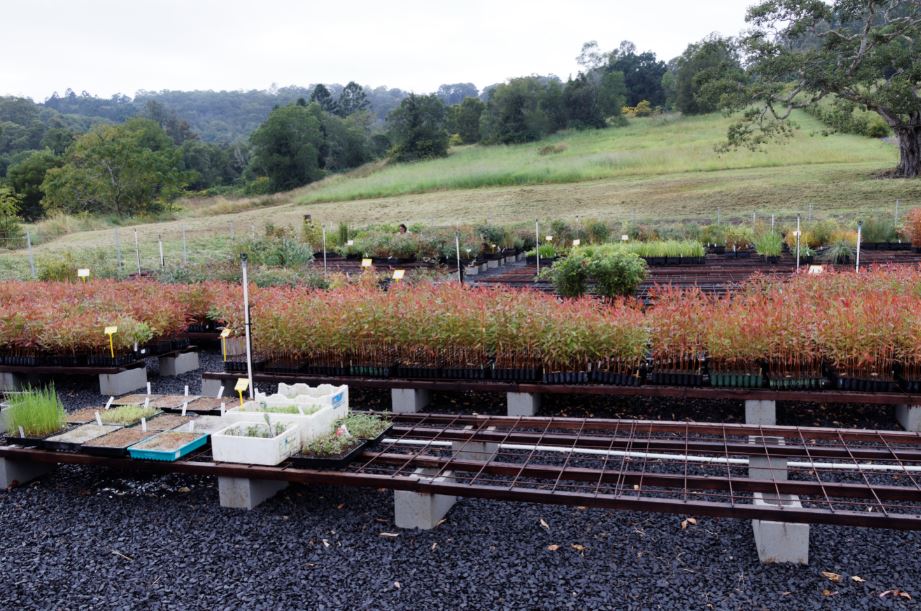 The greatest threat to the long-term survival of koalas is destruction of their habitat.
Many of the remaining belts of eucalypts along traditional koala routes have become severely fragmented, which increases their susceptibility to disease, motor vehicle accidents and dog attacks. Koalas are under greater stress because food is harder to find and they spend more time on the ground as trees are further apart.
One of the aims of Friends of the Koala is to encourage landholders to undertake tree-planting activities to link up the existing patches of remnant koala habitat to create a more continuous corridor of food and shelter.
We operate a community native plant nursery (open by appointment), located behind our Koala Hospital, and issue koala food trees for $1 each to landholders in the Northern Rivers Region where koalas reside. We also grow and sell a wide range of native plants including trees, shrubs, ground covers, grasses, rainforest plants, etc. All proceeds go to funding our operations and the Koala Care Facility.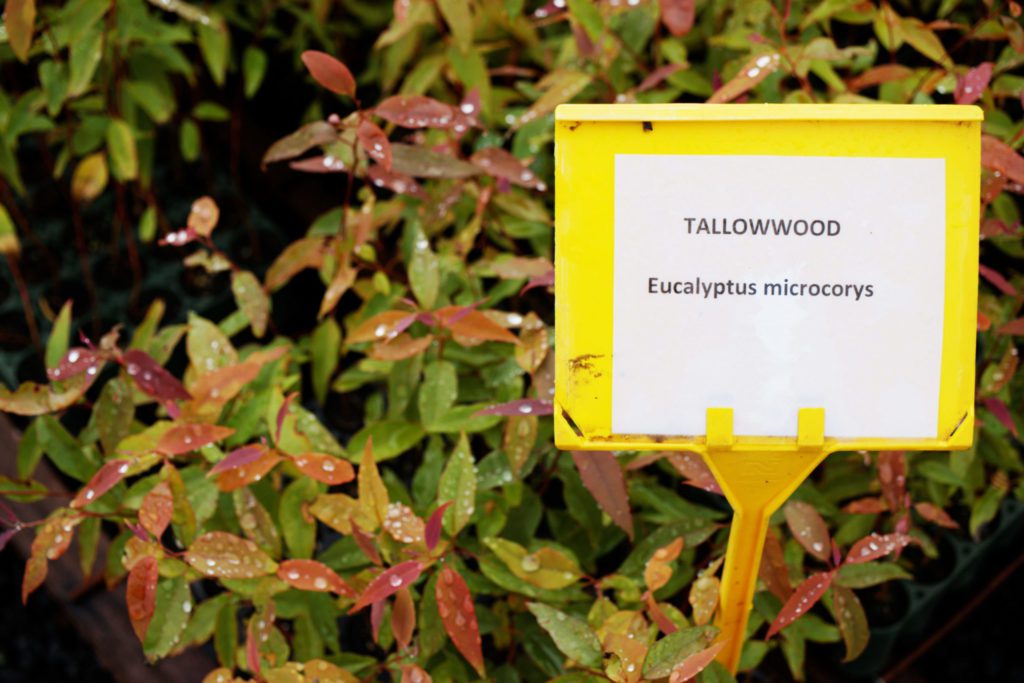 Planting koala food trees
Koalas rely exclusively on one or two species of Eucalyptus trees, which are their primary browse trees, in a particular region. The species they prefer varies throughout their ranges. They do browse opportunistically on other species of eucalypts, as well as some non-eucalypts that are utilised for other behavioural purposes such as shade. The major food trees utilised by koalas in the North Coast region are listed below.
Primary browse trees
Forest Red Gum (Eucalyptus tereticornis)
Tallowwood (Eucalyptus microcorys)
Swamp Mahogany (Eucalyptus robusta)
Secondary browse trees
Flooded Gum (Eucalyptus grandis)
Grey Gum (Eucalyptus propinqua)
Blackbutt (Eucalyptus pilularis)
Sydney Blue Gum (Eucalyptus saligna)
Scribbly Gum (Eucalyptus signata)
Grey Ironbark (Eucalyptus siderophloia)
Forest Oak (Allocasuarina torulosa)
Brush Box (Lophostemon confertus)
Paperbark (Melaleuca quinquenervia)
Establishing or enhancing koala food tree habitat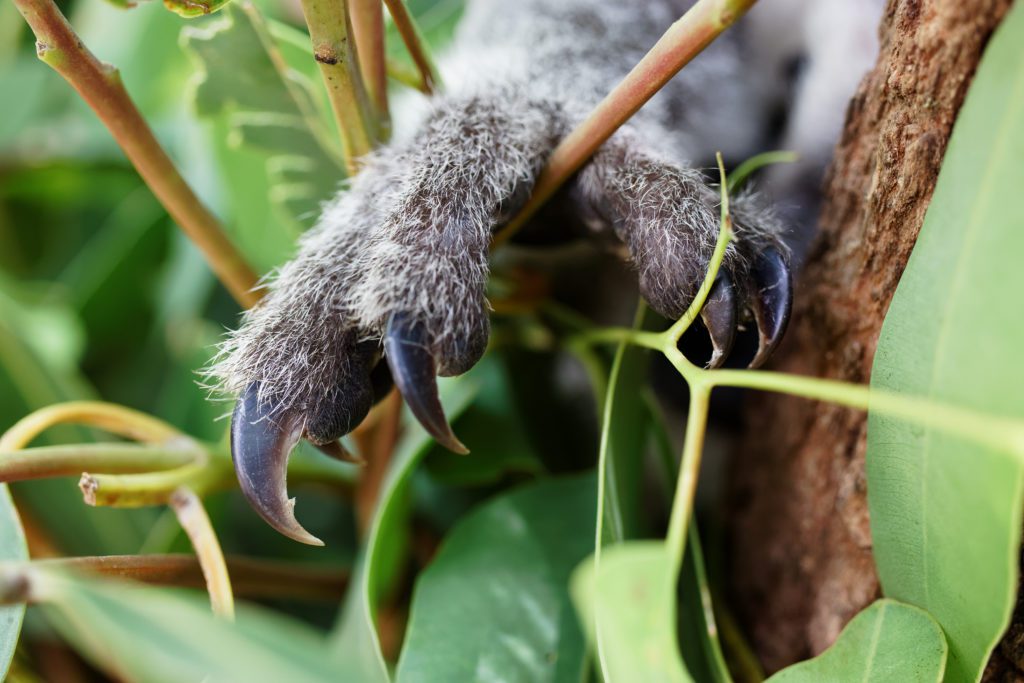 When planting food trees for koalas it's important that they're grown from seed collected locally, and preferably collected from trees known to be eaten by koalas. If plants are not propagated from seeds collected locally, they may not thrive or even survive.
Individual koalas require a minimum number of food trees, depending on their size and quality. As an example, about twenty good large Forest Red Gums will be enough for one koala, but it will need many more if the trees are small, of poor quality, or of other species.
When establishing or increasing habitat for koalas either in a corridor of trees or even a small clump, people usually plant trees in the site selected. However, this isn't the only method of creating habitat and in some cases may not be very effective if the trees planted haven't been propagated from seed collected from the local area.
Another method you may wish to consider is via natural regeneration. Most properties contain areas that have never been cleared, or have scattered remnants of original tree cover or individual trees of great age. These can often be used as a basis to re-establish trees where they're required.
Natural regeneration has several advantages over planting seedlings
Tree species native to the area are retained, and these species are best adapted to local soil and climatic conditions, and most likely to be used by local koalas and other wildlife in the area. This method is inexpensive, as you don't have to buy seedlings, and the cost of fencing may be less than providing guards for seedlings, as regenerated seedlings seem to be less attractive to pests such as wallabies and hares/rabbits than planted seedlings. Finally, regenerated stands of trees have a more natural appearance than trees planted in orderly rows.
Limitations of natural regeneration
Weed control is a major expense, you have little control over the species mix that will subsequently germinate, and the mature trees present on the site must have an abundant supply of viable seed. Finally, weather conditions, particularly rainfall, will significantly affect the success of the site.
Areas suitable for natural regeneration include around existing trees in paddocks, in the corners of paddocks, in rocky or inaccessible areas where planting is difficult, along ridgelines, in erosion prone areas, on creek banks or on abandoned or closed road reserves.
Natural regeneration methods
If you'd like to encourage natural regeneration on your land, fence off an area containing some mature trees and exclude livestock, as animals can destroy newly germinated seedlings by trampling or browsing.
There are two possible sources of regeneration:
These are the woody swellings at the base of the stem of some species of eucalypts from which new shoots develop if the main stem is damaged or broken off. Lignotubers can survive in the soil for many years and will send up shoots when favourable conditions occur. The shoots growing from lignotubers will develop into healthy trees if they are protected from livestock.
To help seedlings germinate and establish, get rid of grasses and weeds by cultivating, burning or spraying with a knockdown herbicide. Fire is probably the best method for establishing eucalypts but you need to take care not to damage the existing trees. Eucalypt seeds usually fall during summer so prepare the ground in late spring. The seeds should germinate in the following autumn or spring. You will need to control grasses and weeds to stop competition with young tree seedlings. After the seedlings are 1-2m high, a cool fire in autumn-winter will help keep weeds and grasses down but won't damage most eucalypt species. After this, do not allow fire back into the area until trees are well established.