G'Day from a beautiful summer's day in the Northern Rivers! Let's see what our kindy kids have been up to lately, it's all happening!
Thanks to Brad our wonderful photographer for recording some of the kindy antics – they are cuute!
Pudding
In January, our koala kindy gained another new joey – Pudding, a little girl of about 11 months old who weighs 1.5kg. Pudding seems healthy and after a brief stay in homecare she has moved to koala kindy to hang with the other joeys… she is settling in nicely.
Pudding was found clinging to her mums back, her mum, despite being very poorly with mesothelioma (cancer), managed to look after her little joey remarkably well. Pudding was already well used to eating leaf and at an age where she would have been gaining some independence away from her mum. We have no doubt that she will thrive here – she is quite the socialite (whether the other koalas like it or not!) and also loves a snuggle at naptime with one of her furry buddies. Did you know? A wild koala is typically weaned at around 12 months and then starts to disperse from its mother.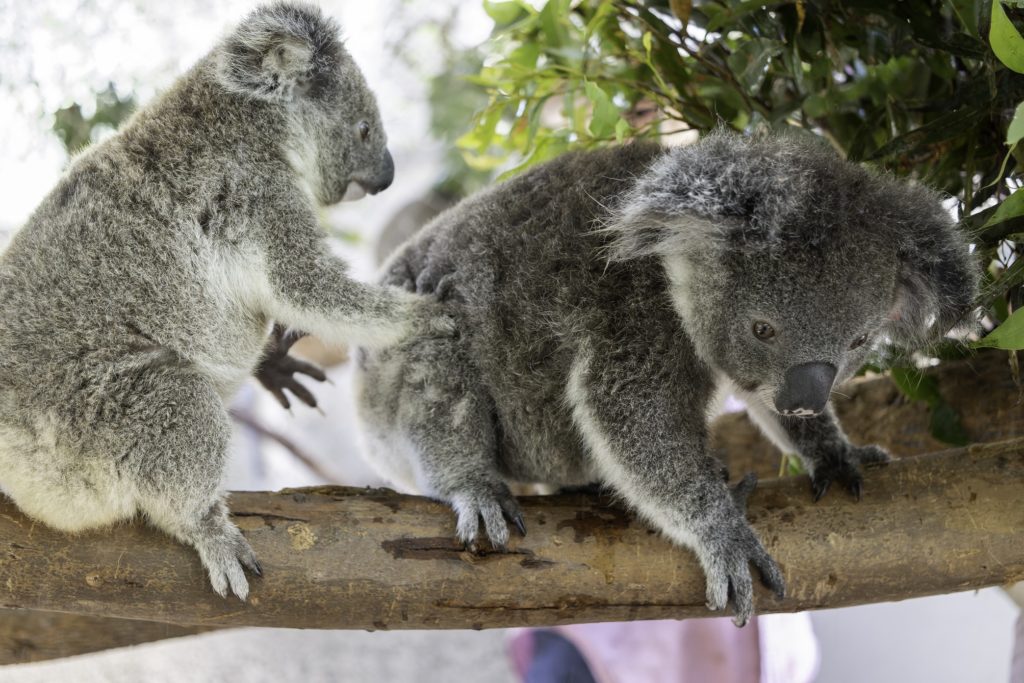 Moby
The cuteness of our youngest joey – Moby is just too much. She is looking bright and healthy and gaining a little bit of weight each week. Moby seems to be quite the conversationalist so far, maybe its a case of the smallest needs to be the loudest to be heard? Thanks to her amazing carers Moby has settled into kindy really well and is now a permanent resident. She is feeding from her syringe like a champ – as you can see here – giving her carer a helping hand.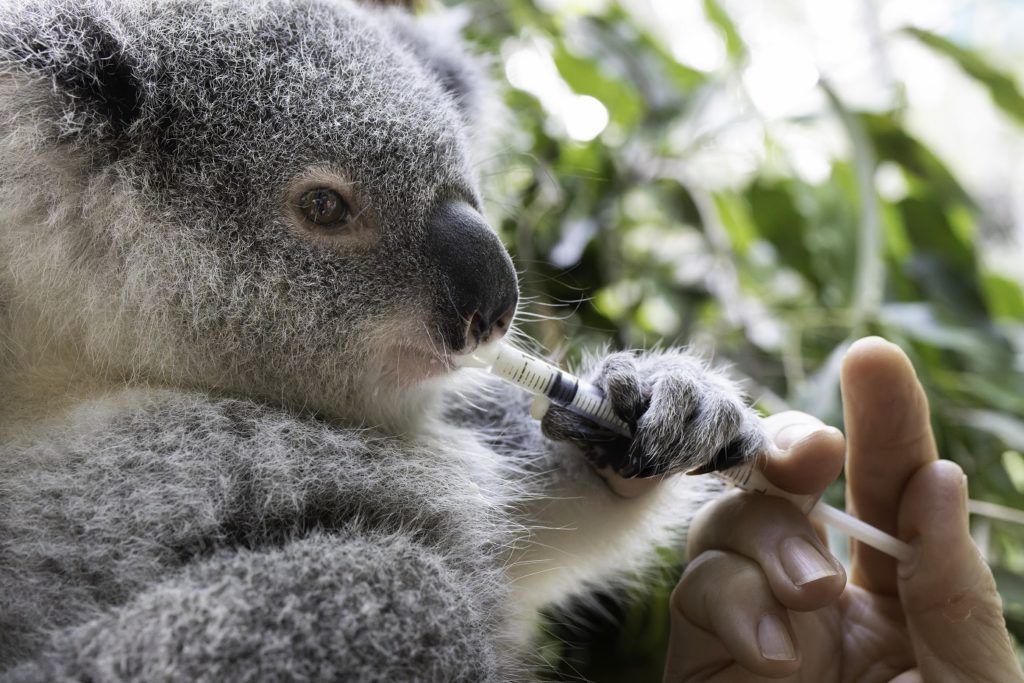 Waratah
Our little Waratah is loving life in koala kindy and is now also a full-time resident. She put on 150 grams in her first week munching on leaves and is loving forest red tips in particular. Waratah now weighs over 2kg so is ready for some ear bling and weaning (soon), we think this could be a challenge as she is always trying to steal milk from the others! We have her booked in for a general check-up next week.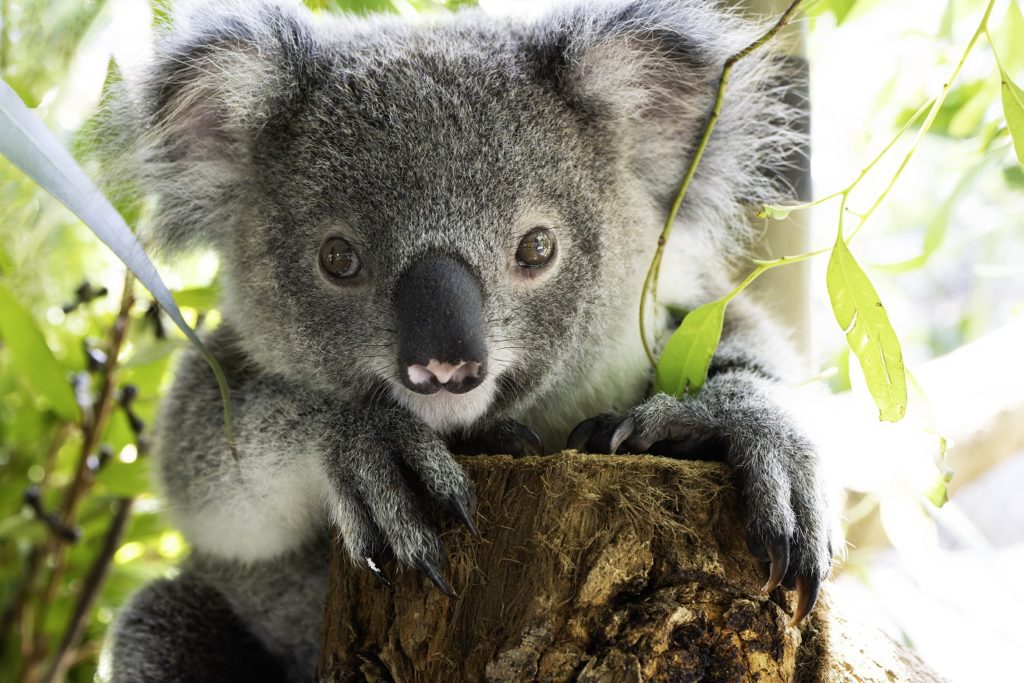 Kookie
A fully weaned Kookie is sporting new ear bling. She is looking bright and alert and doing all the koalary things she should be doing. Kookie is getting ready for release with Rafa – yes we can't believe it either!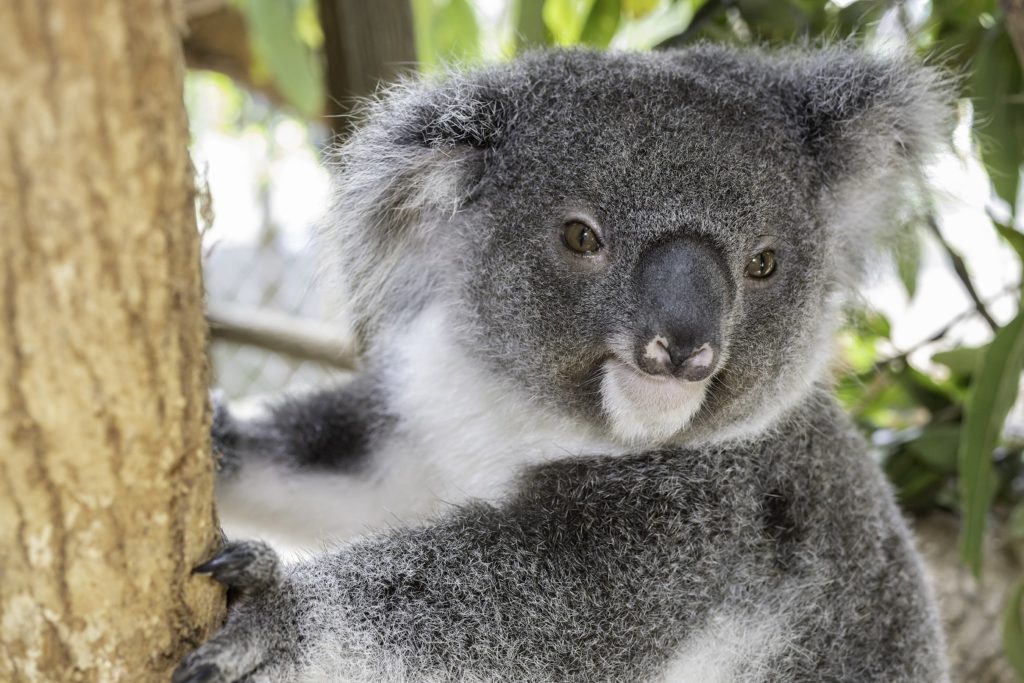 Rafa
Since our last update, Rafa moved on quickly from asking for milk to hanging with Magnus doing big boy stuff. We have no doubt Rafa is well able for kindy plantation and beyond. Did you know a male koala can live up to age 12 and a female koala up to age 15?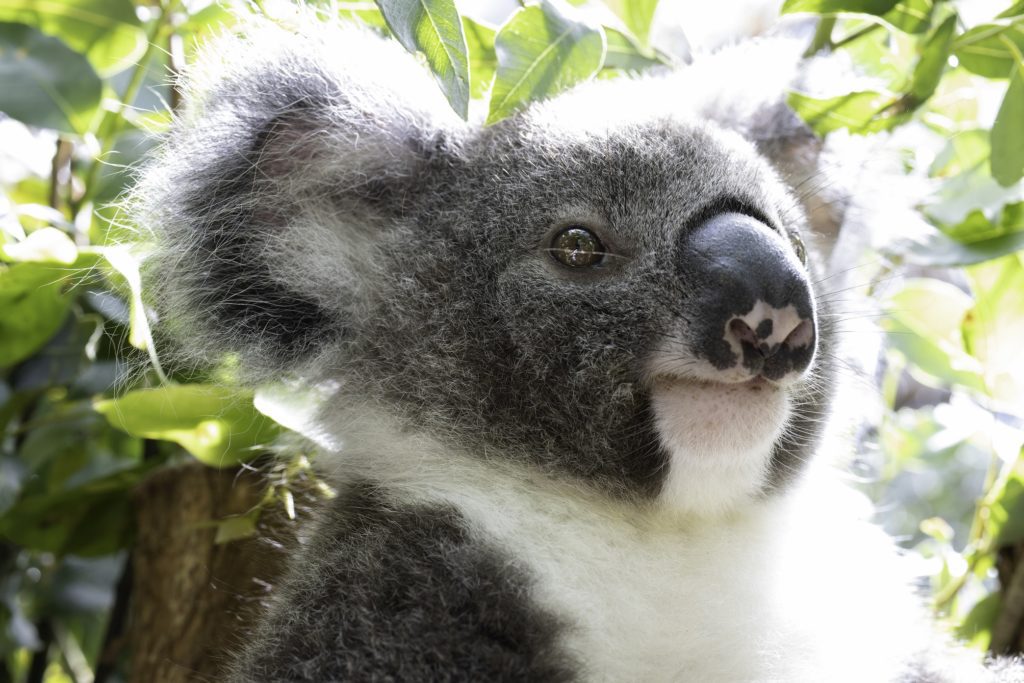 Siri
Siri, one of the wilder koalas has settled well in kindy and is putting on weight. She will soon be ready for plantation too but we will keep an eye on her another while to make sure she is 100% because her mother was so ill on admission. Siri likes to sit alone but also likes to lick the water off Kookie's fur when the sprinklers are on – beyond cute! She is a little more wary of her human carers than the others – rightly so!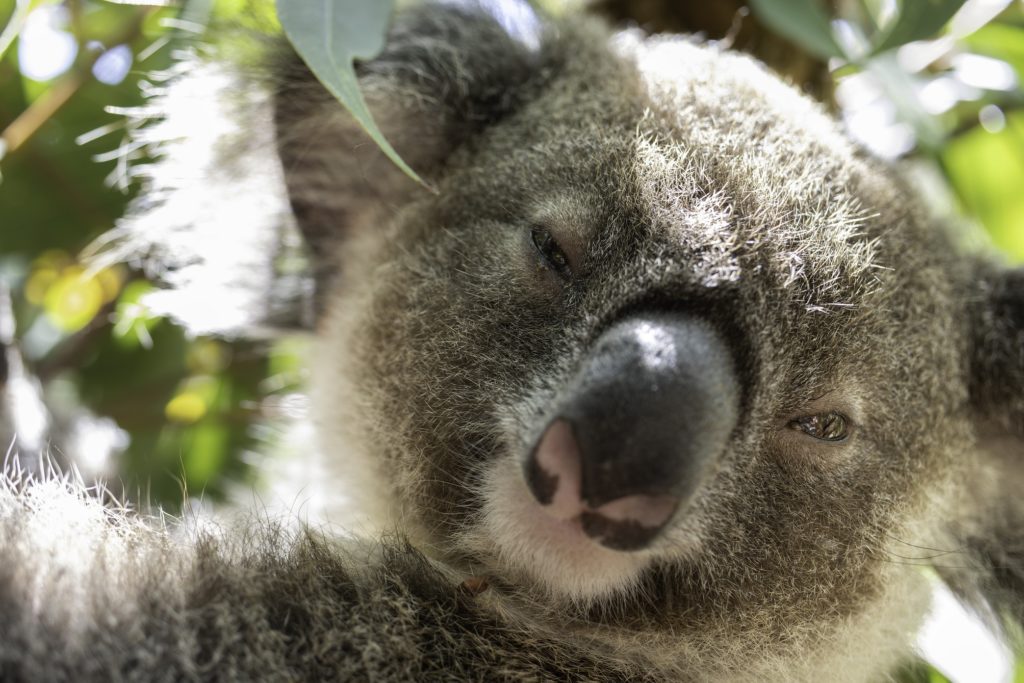 As mentioned last time, Racquet, Temika, Seeana and Kula were all off to plantation at Ros and Bill's who report that they are doing well and moving about plenty. Plans for their release are underway.
Nash
We have another new kindy kid – a boy called Nash who found himself in a very precarious situation – trapped in a fence surrounded by dogs. BUT, we have yet to find any injuries, which is promising, dog bites can be difficult to detect though so we are keeping a close eye on him.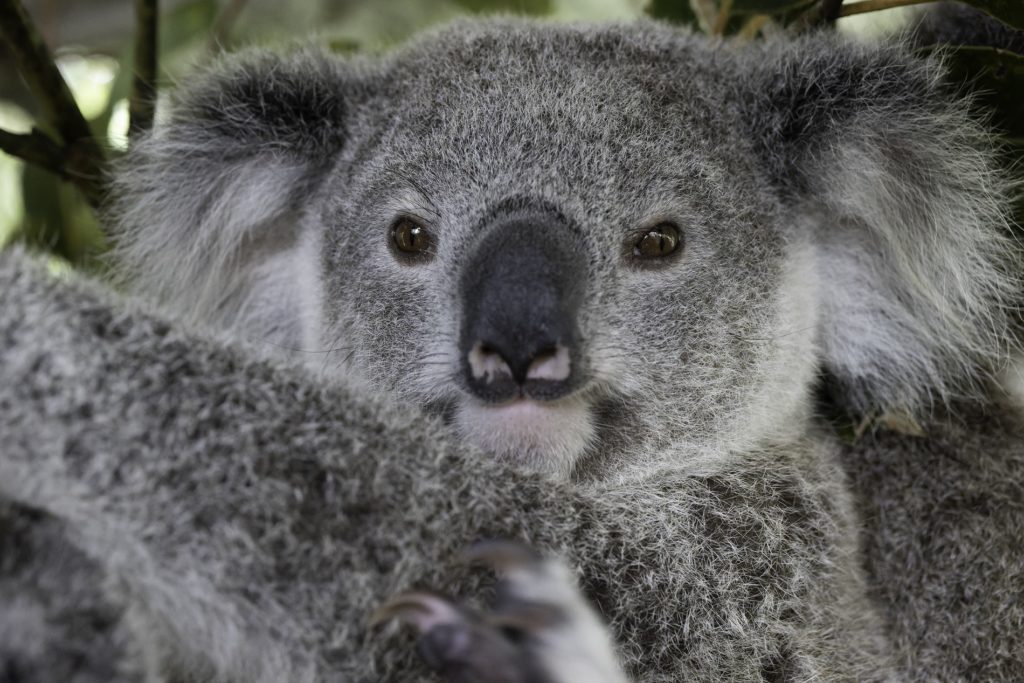 Magnus
It is time for Magnus to have another shot at kindy plantation! At his last check-up all was well – his abdominal injury has healed and his tests are returning normal. He has been showing Rafa the ropes when he joined his run recently – how to be a big boy but also how to know ones place! So that's Magnus, Kookie and Rafa off to plantation very soon, we are excited for them!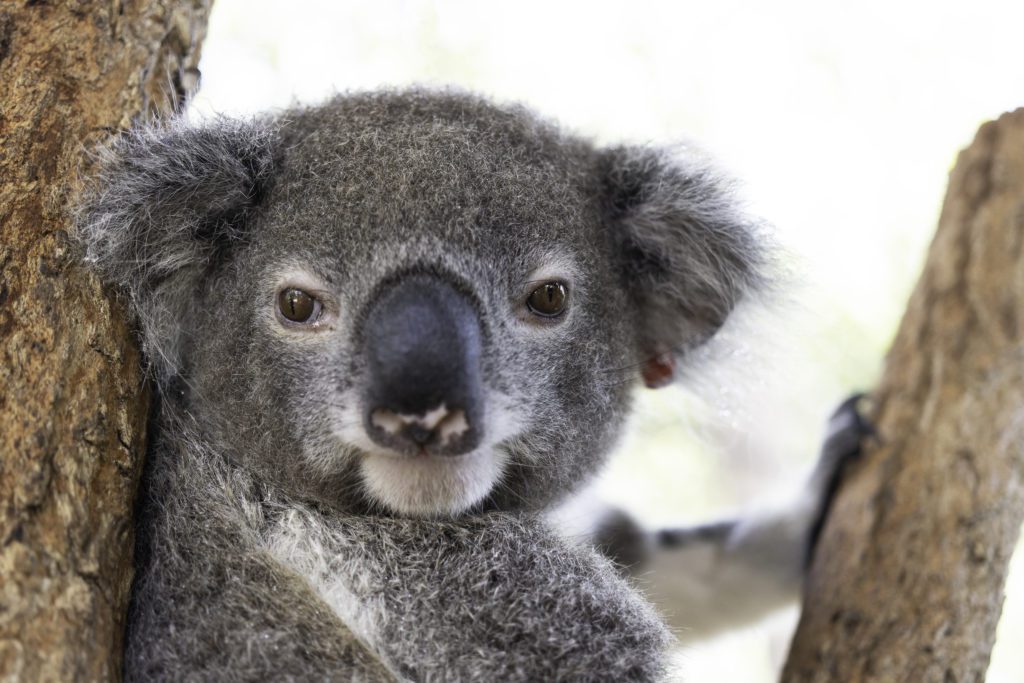 Until next time…