We have been extremely busy at Friends of the Koala during August at Koala Kindy with a large number of admissions to our hospital and care centre. This is partly due to this particular time of year in Australia, more koalas are on the move, spring is in the air. However, there is a larger picture of habitat loss and fragmentation. Koalas on the move are forced to travel large distances on the ground instead of moving from tree to tree, frequently crossing streets or backyards. Koalas on the ground in areas with houses are far more vulnerable to car hits and dog attacks than their country cousins, however both groups are challenged.
What can you do?
Create a koala-friendly backyard – fences that koalas can easily climb over, through, or under, allowing them to move freely around their habitat.
Dogs should be kept indoors at night and please report any roaming dogs in the area.
Plant koala-friendly trees and/or adopt a tree.
Slow down and look out for koalas, please read our recent press release.
Raise awareness – share our work on your socials.
Report a sighting and call our 24/7 rescue hotline immediately – (02) 6622 1233.
Let's focus on kindy now and what adventures and misadventures have led these beauties to us.
Pikachu
We are really happy with Pikachu's progress, she is now in kindy full-time, gaining weight and is looking healthy, she won't be lonely in kindy for much longer with four other joeys currently in home care waiting to meet her!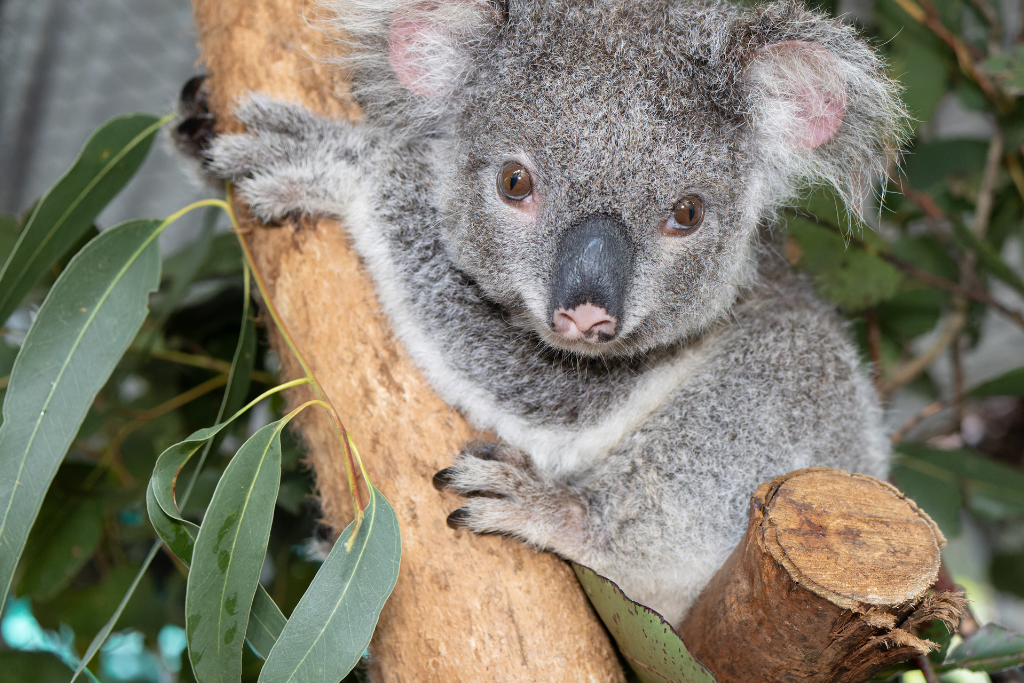 Frankie
Frankie is one of those in home care, this little girl is growing steadily, gaining weight and on her last examination is in good health. She currently weighs just over a kilo. Well done Frankie – keep up the good work!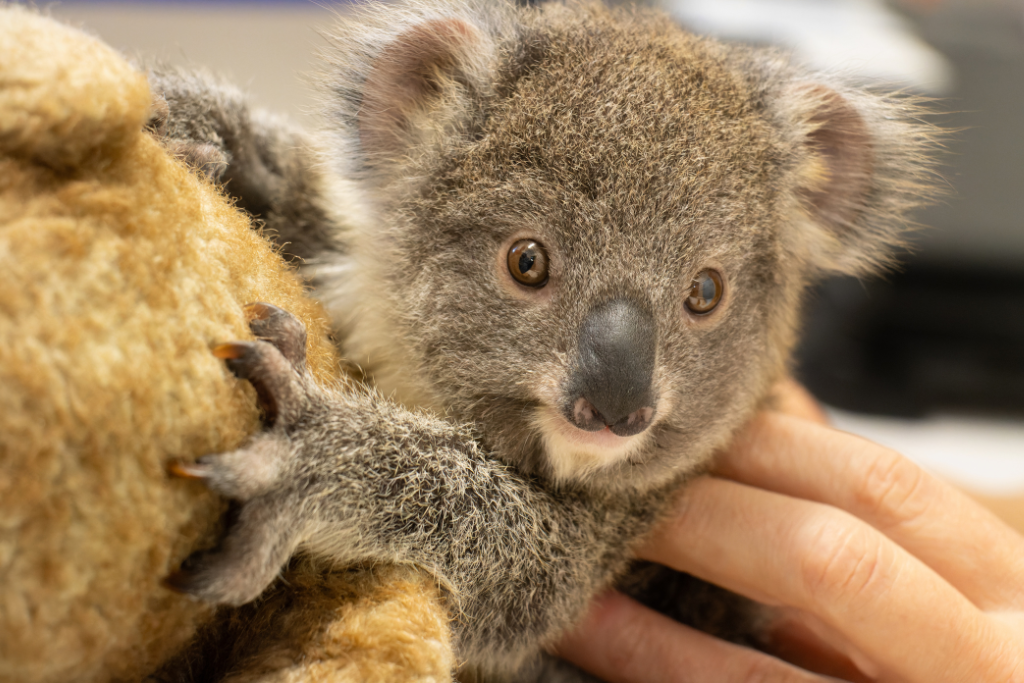 Gidja and Boorie
Gidja and Boorie are doing well all things considered and are spending time together cuddled up and enjoying leaf on tap. Boorie is happily taking his supplement milk whilst on mums back and is gaining weight. Gidja has showed significant improvements since her admission but her blood biochemistry and brain function is still abnormal – we continue to monitor her closely.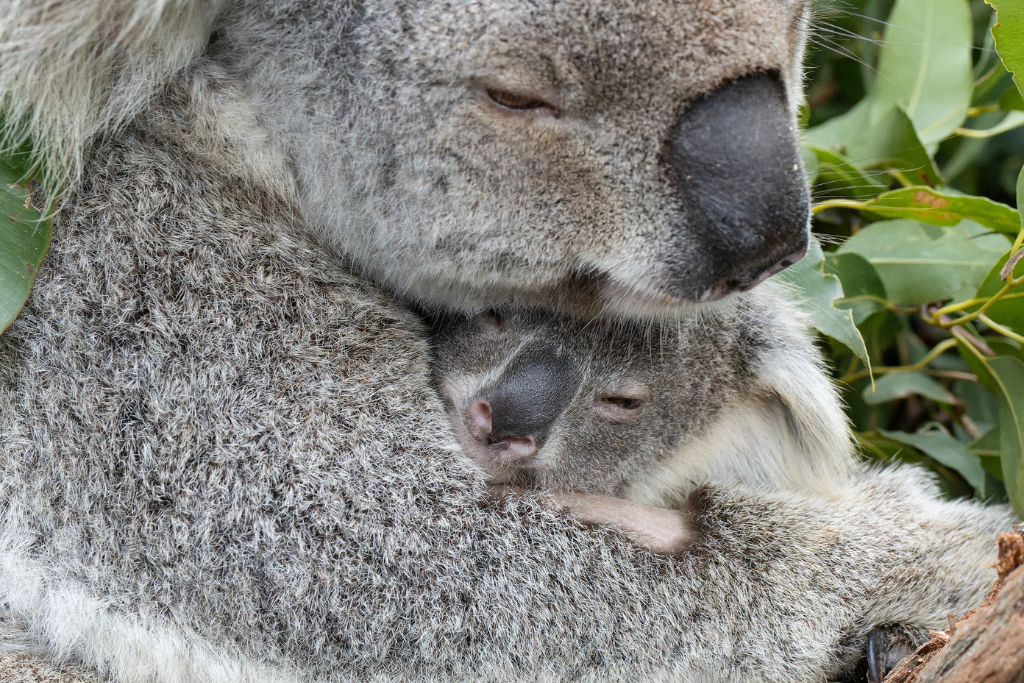 8 Mile
8 Mile is a young male joey who was rescued when his mum was hit by a car and sadly didn't make it. 8 Mile suffered some head trauma, but he appears to be recovering well and showing no other signs of injury. He is about 1.2 kilos and very chonky – just the cutest. He will be a good buddy for Frankie, who is a similar age and size.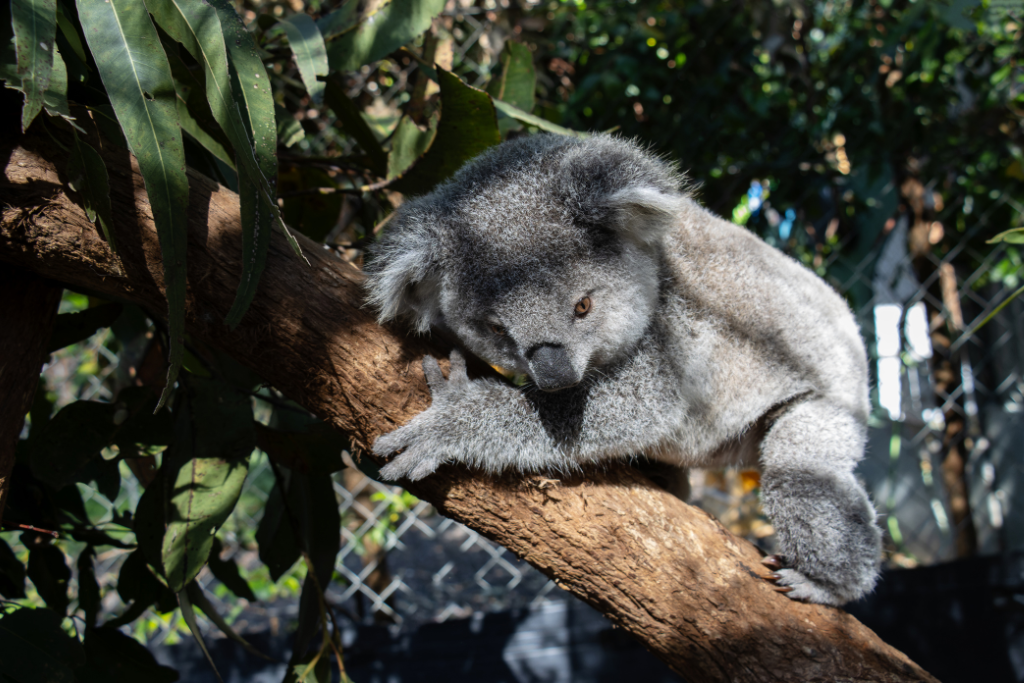 Minnie May
Minnie May is a young female joey of about seven months old and weighing only 700 grams. Minnie May was rescued and brought to Friends of the Koala hospital along with her mum who had a severe leg wound, her mum unfortunately did not make it. Minnie May is a little malnourished because her mum had been unwell for some time but so far has been making up for lost time in home care and is eating well and putting on a little weight.
Hiphop
One of our newest joey additions is Hiphop, a tiny 450 gram male joey who came to Friends of the Koala with his mum who had broken her back. Hiphop is a little dehydrated but otherwise well and is learning how to take his supplement feeds.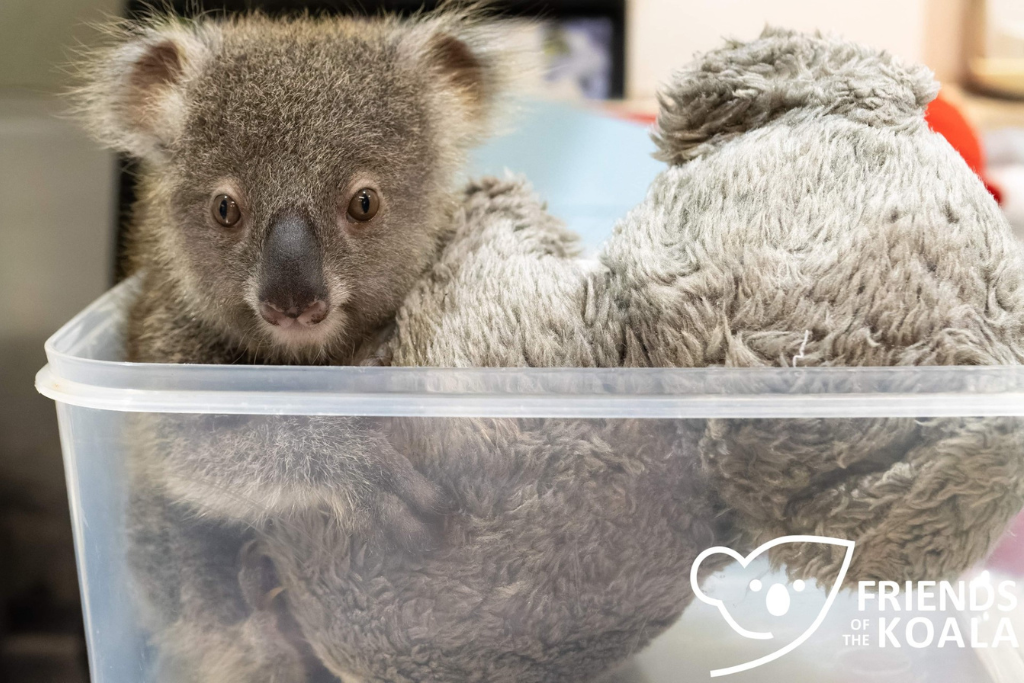 Johnny
Johnny is another of our newest joey additions. He is approximately six months old and weighs 420 grams. Johnny's mum was yet another car hit casualty – this is just so sad and makes seven the number of joeys with us now. Johnny appears to be healthy and well and settling into home care with Liz.
Banksia and Rose
We had the most gorgeous mother (Banksia) and her back young joey (Rose) visit us recently for a check-up. It was suspected that Banksia had an eye infection but it was a mild injury that was healing well by itself. We didn't hold these two for very long – mum got her ear tag, microchip and vaccination, while joey was microchipped after examination, and they were sent back home. Another success!
As well as our young joeys we also have a number of juvenile joeys visiting throughout August, they are:
Dale
A young dispersing male had rather a traumatic misadventure earlier this week. Wandering carelessly into someone's yard, he was chased by geese and found himself frozen on a fence! The member of the public picked him up, popped him in a dog cage and it wasn't long before he found himself at FOK Hospital. Soon after he was examined and found to be healthy so he was chipped, tagged and vaccinated before he was released home – won't he have some stories to tell his friends!
Spencer
Spencer is another young male admitted to Friends of the Koala hospital with dog bite wounds, mainly to his rump, but also some superficial grazes around his head and neck. Spencer is one of the lucky ones and only needed a short course of antibiotic therapy and TLC to fix him up. Spencer was vaccinated and released home last week. Yay go Spencer! We say he wins the August at Koala Kindy posing for a photo comp!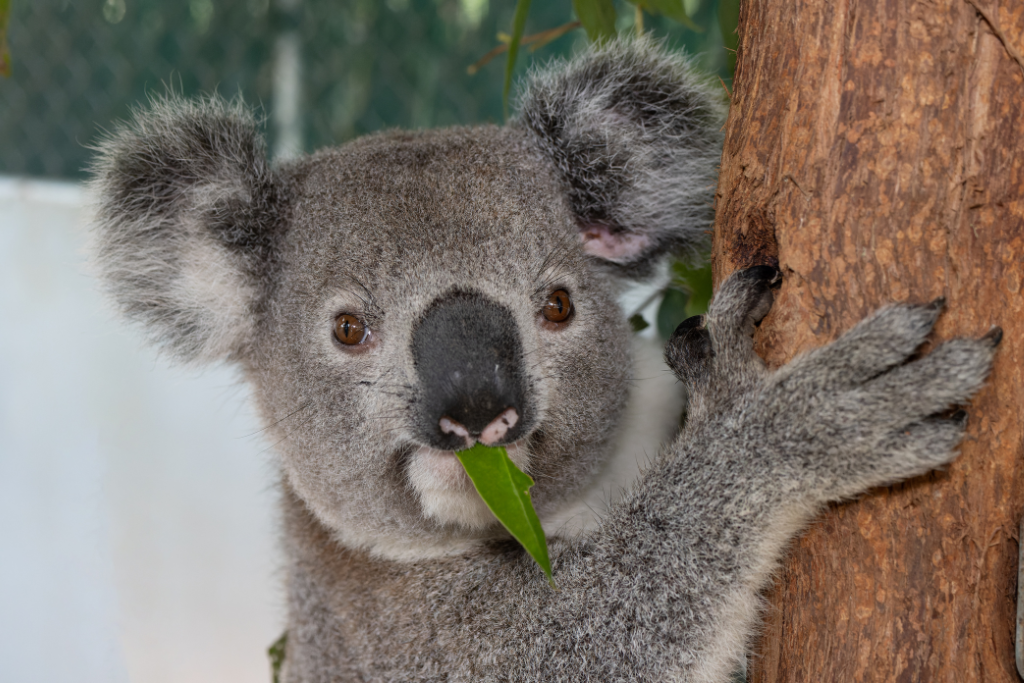 Gilbert
Gilbert, is yet another young male admitted to Friends of the Koala hospital (briefly) following a suspected car hit. Gilbert is also another very lucky boy and we think that maybe it was a mild vehicle tap as there was little evidence of abdominal trauma on examination and was otherwise healthy. Gilbert was vaccinated and released home again – Go Gilbert!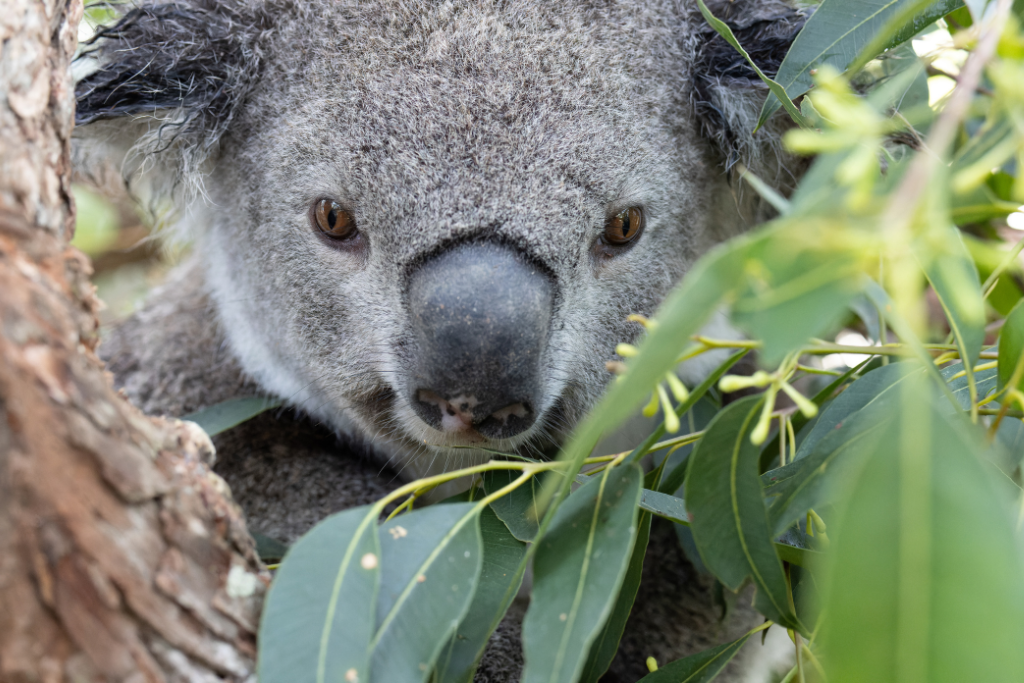 That makes seven joeys in total, which is total cuteness overload but at the same time so many fatalities. We do hope that things are quietening down here, our hearts are broken for the ones who didn't make it.
That's a wrap for one of the busiest month during August at Koala Kindy! Until next month, please take care and be kind to each other.