Ear tagging, in conjunction with microchipping, allows us to identify koalas after they have been released into the wild again. Each ear tag number is associated with the data we collect about that individual koala. If the tagged koala is ever found ill or injured, Koala Hospitals will be able to find out where that koala came from, when and why they were rescued, the treatment they received and their response to it, and where they were released. That information is incredibly useful for veterinarians and carers to inform treatment and rehabilitation.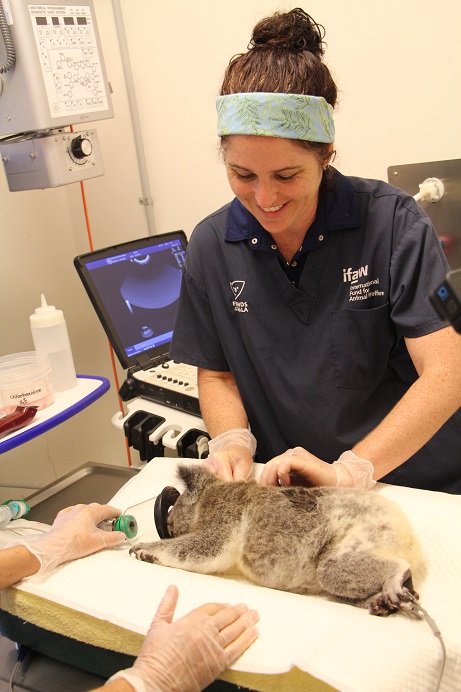 Ear tagging is done using sheep ear tags and takes place under general anesthetic by one of our IFAW sponsored vets during a clinical assessment.
Generally speaking, koalas are tagged when they are around the 2kg mark. The reason is so that their ears are big enough to support the weight of the tag and it is more likely to stay in one place as the koala grows.
Each of our ear tags is red, has a four digit number on it, and is comprised of two individual components to prevent injuries if they become trapped. The piercing is a little like getting your ears pierced with an applicator but the koala doesn't feel anything because they are asleep. We then record the ID number for each koala.
In our koala hospital, we tag boys on the left and girls on the right, this is a convenient way for us to identify whether a koala is a male or female from a distance. To help us remember which ear, we joke that 'girls are always right'!
You might remember the story of Chunky and Junior? It was the red ear tag that helped our photographer Brad to identify Chunky and it is the same for many of the koalas who have spent time with us – we get such a kick out of seeing one of our joeys grow up and become a mama themselves.