Deb Mostert is an artist based on the border of Brisbane and Ipswich, Queensland who has been practising art for over 30 years. Much of Deb's recent artwork focuses on documenting, recording and creating an aesthetic agenda around pressing environmental issues.
In 2022, her work 'Koala as Object' was selected for the Korea-Australia Arts Foundation (KAAF) art prize 2022, and you can explore the subject 'Koala as Object' in more depth below.
New year new me = fewer purchases and more donations to real animals?
Conduct a simple search through Etsy for 'koala' and you will find about 35,000 results. If you Google 'koala merchandise' you will get about 3,070,000 results. It is obvious, absolutely everyone loves koalas!
If we are spending so much on koala toys, souvenirs and products, how great would it be to actually support the real, living koalas so they continue to exist in the wild? If everyone selling 'koala merchandise' gave even a small portion of their profit to organisations supporting koalas, the koala would be so much better off!
Deb has very generously offered to donate 30% from the sales of a selection of her artwork to Friends of the Koala. If you are interested in purchasing any of the artworks, email: info@friendsofthekoala.org! We really appreciate this opportunity.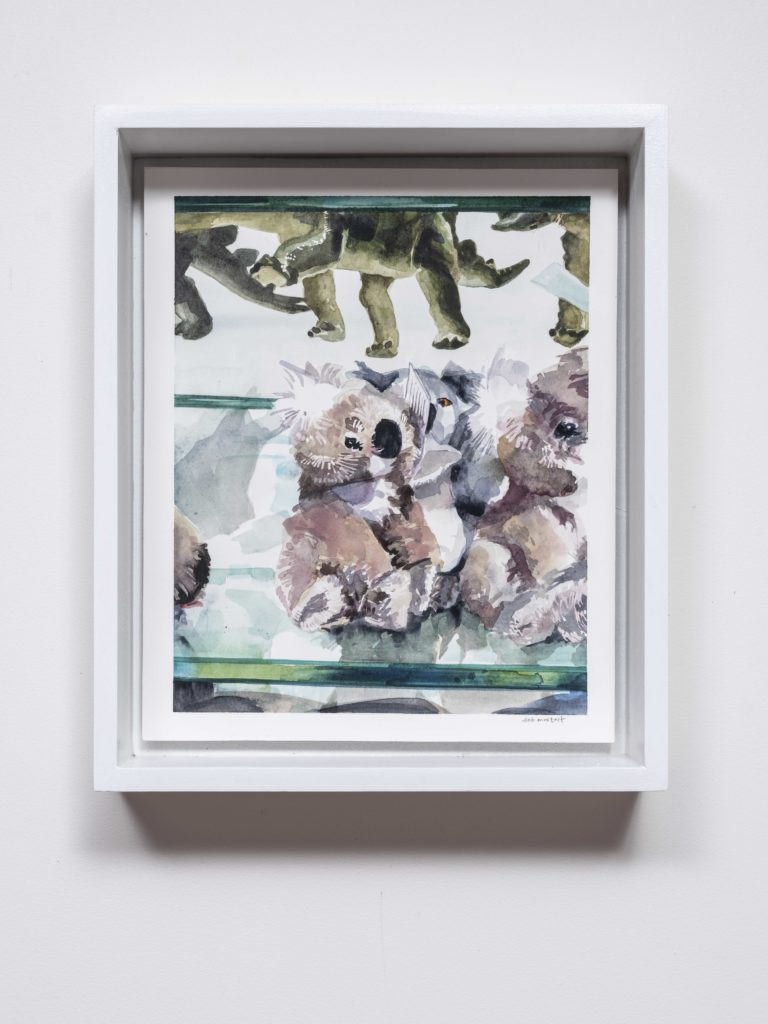 Deb Mostert Stuffed Koala 2021 26 x 31 watercolour on paper on board and ready made collectible, timber framed ($1200 plus postage)
Deb Mostert Koala as Object 2020 watercolour 60 x 88 cm framed ($2700 plus postage)
Deb Mostert Blind Koala Arm 2022 43 x 38 pencil on paper on board timber framed ($1600 plus postage)
Deb Mostert Koala Bear Anatomy 2022 54 x 65 watercolour on paper on board timber frame and ready made collectible framed ($1800 plus postage)
Deb Mostert Made in China 2021 34.5 x 44.5 oil on canvas timber framed ($1200 plus postage)
deb mostert Blind Koala 2021 29 x 54 cm oil pencil on paper on board framed ($1500 plus postage)
Deb Mostert Common Koala Souvenir Anatomy 2022 watercolour on paper on board 24 x 24 cm framed ($1100 plus postage)
Koala as Object – by Deb Mostert
Koala as Object is part of a growing investigation into the proliferation of animal commodification as souvenirs. Animals have long been a source of interest to us as a food source, a predator to be avoided or an asset to be exploited.
For the last four years Deb has settled into weekly visits (pre covid) to the Queensland Museum to document and draw from the objects within the mammals and bird's collection. Working in sketchbooks she has documented both the creatures she has met and the day-to-day, backstage workings of the taxidermists and preparators at the museum.
A deep love and fascination of natural history and a long-standing practice within the genre of still life and collections have meshed to produce many conceptual concerns.
Elderly taxidermy of koalas long deceased, that are part of our state collection mingle with stylistic and kitsch interpretations in a strange de-evolution chart referencing scientific classification. In the legend each of the objects is named with its material, manufacturer, and country of origin.
Deb is keen to have conversations around conservation and stewardship as we examine the role of the objectification of our endangered species, like our vulnerable koalas and the value of this, particularly in the context of the 'souvenir'.
How do we feel about the various images of koalas within our popular souvenir culture? Is it education or exploitation?
German mystic St Hildegard of Bingen said in the 11th century 'If we fall deeper and deeper in love with creation, we will respond to its endangerment with passion'.
If this is the case, maybe even a tacky clip-on koala can be redeemed."