Some of you might be aware that our Instagram account with more than 45,000 followers was hacked and taken down last October. We were devastated. While we still had our Facebook and LinkedIn accounts, these are nowhere near as popular. We and other organisations engage with our followers most on Instagram due to the visual nature of it. We only just got the Instagram account back, after numerous emails with the administrators of Instagram and a lot of anxiety. The timing wasn't good either just before the Christmas appeal. We had all but given up on it.
It made us very aware of how vulnerable we are as an organisation and that we cannot rely on social media accounts to stay in touch with our supporters and we have started to implement some positive changes.
Our database of friends and supporters is something we can control. We have been keeping in touch with our volunteers and friends via regular electronic newsletters in addition to social media and would love it if you could join us there to ensure we don't lose contact with you if we – beyond our own control – lose access to one of several of our accounts again. You might also like to become a member or renew existing membership from as little as $20 per year.
We improved the adoption page and made the certificates and all associated materials way cuter for adopters – not a difficult task given we have the cutest and most photogenic models to work with in the first place!
We offered our 2023 calendars free of charge this time in return for the recipients email as an incentive to sign up to our newsletter.
Adoptions
Late last year, we undertook an upgrade of our adoption process to make it more user-friendly, informative and appealing and we wanted to thank the many people who stepped up and adopted a koala. So far we received 233 adoptions since the new program launched in December. This is a pretty awesome achievement and means that the adopters directly support the care of koalas and the conservation efforts needed to ensure the survival of our precious koalas.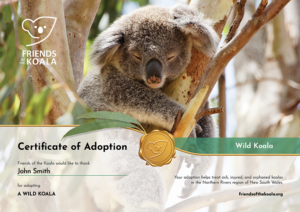 Adopting a koala is super easy, simply choose the koala you would like to adopt, enter your details and choose the package that best suits you. With every adoption you receive a certificate and fact sheet. Visit our Koala Adoption page. And we are not done improving yet, soon we'll add our business package back again and we are working on a few more nice additions. Have you experienced any barriers to adopting a koala of you like another adoption program better? Please let us know, we are always keen to improve.
Annual Calendars
The second initiative to receive a new look was our annual calendars. Our photographer Brad, created beautiful designs, which were gifted to you upon registration with instant download. The calendars proved very popular and we want to thank those 284 of you who downloaded a calendar to date! It is not too late, by the way, you can still download your calendar.
Behind the scenes we are busy with other projects that we can't wait to update you on soon.
Sustainability
At Friends of the Koala, we are acutely aware of the need to be environmentally sustainable. This includes our fundraising efforts. We wish to tread lightly on this planet to ensure other species are able to co-exist with the human species. We strive to operate with minimal negative impact on the environment, community and society as a whole.
Electronic donations are part of this strategy, we are aiming for more donations to real animals and our digital adoptions and calendars are a step in the right direction towards a more sustainable business model and lifestyle. We are researching other options as well, like beautifully produced and printed calendars and other items. It takes a little longer to get it right but you will be the first to know when we have something new on offer.
If you have any ideas or are a business owner who shares our values and would like to partner with us, please get in touch! We would love to hear from you.