Are you passionate about koala conservation? Or, are you looking for an amazing gift for an animal lover?
Adopt the ultimate fur baby!
Adopting a koala is a fun way to support the crucial conservation work of Friends of the Koala, and help our precious koalas survive.
Why adopting a koala is so important
Did you know? Koalas are on the brink of extinction.
You can help us ensure their survival!
Scientists forecast koalas will be extinct in New South Wales, Australia by 2050 unless there is significant action to prevent the loss of their habitat.
Devastating bushfires in 2019/2020 damaged their native environment and killed at least 6,000 koalas in New South Wales alone.
Despite these tragic events and the declining number of koalas, there is hope… with the right conservation efforts, we can save and even repopulate this species.
When you adopt a koala through Friends of the Koala, you directly support the action needed for our precious koalas to survive.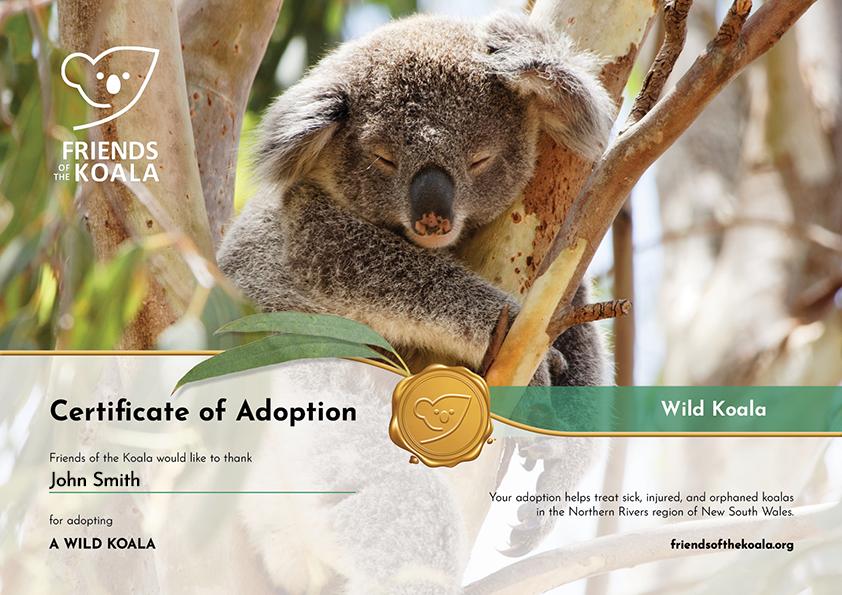 How does my adoption help?
If you're ready to adopt a koala, thank you! Your donation goes directly to the koalas in our care and helps with the rescue and treatment of sick and injured koalas, aids in their release back into the wild, where possible, and protects them against Chlamydia, which is devastating their populations.
Your adoption also helps provide new homes and food for koalas, our conservation work safeguards and restores their forest homes.
We also have a community native plant nursery and operate seven koala food tree plantations, because Koalas can't survive without fresh eucalyptus leaves every day.

By adopting a koala, you are also contributing on a larger scale to the restoration of natural habitats in the Northern Rivers region and funding much-needed research into the prevalence of disease in koala populations.
How long does the adoption go for?
We have different adoption options. We have a one-off option, as well as subscriptions month to month or annually. We hope you choose to renew your adoption regularly and continue to support our vital work.
Can I visit my koala?
It depends which koala you adopt! Our permanent koalas: Ivy and Charlotte love visitors. We run tours Monday to Thursday at 2 pm and you can book by calling 66214664.
We have already released some of our koalas back into the wild. You can learn more about each koala on their profile.
What do koalas eat?
Koalas mostly eat eucalyptus leaves but will consume the flowers, buds, stems and bark of a eucalyptus tree. Koalas are fussy eaters and rely only on one or two eucalypt species, which are their primary browse trees. This varies between regions and an individual's range.
They do browse opportunistically on other species of eucalypts and some non-eucalypts such as She Oaks and Paperbarks. Preferred koala food trees (KFTs) in the Northern Rivers are Forest Red Gum, Tallowwood and Swamp Mahogany.
How much interaction do they have with people?
The koalas we work with are wild koalas and therefore cannot be held and treated like captive-born koalas. We limit their interaction with people as much as possible to ensure they have the best chance of success when they are released.
Can I keep my adopted koala as a pet?
Koalas are wild animals and cannot be kept as pets. It is illegal to have a koala as a pet anywhere, even in Australia. The only people who may have a koala at home are trained volunteers or veterinary staff who are taking care of sick or injured koalas or orphaned joeys.
If you volunteer with Friends of the Koala or another koala rescue group in your area, you will come in close contact with sick and injured koalas that are being readied for their release back into the wild.
How can I volunteer to work with koalas?
We welcome enquiries from all potential volunteers who are crucial to all aspects of our work. Becoming a volunteer at Friends of the Koala is easy! Simply complete a Volunteer Application Form and our volunteer coordinator will be in touch with you to arrange an induction session. Friends of the Koala is the only organisation in the Northern Rivers that is licensed to rescue koalas.
If you are not based in the Northern Rivers, we have opportunities to volunteer in administrative roles like marketing, PR, volunteer recruitment, financial administration, and our management committee. If you would like to volunteer to work with koalas, contact your local koala rescue group for opportunities.
How else can I help my koala?
Adopt more koalas!
A koala adoption is a perfect gift for new babies, birthdays, Christmas, or any other occasion! And koala adoption is addictive, many people end up often adopting more!
Other ways you can help include:
Donations: we cannot do our work without your support. With 99% of the work being done by volunteers, you can be confident your donation will have a direct impact on koalas and their habitat.
Leave a bequest: make a difference after you have gone! A bequest is a fantastic way to support our work and leave a legacy.
Volunteer with us: we rely on nearly 200 passionate volunteers in all aspects of care and conservation. Either get up close and personal with the koala's or use your experience and skills in other ways to support the cause, we would love to hear from you.
Three things in three minutes:
Subscribe to the newsletter.
Like us on social media .
Share our work with your people.
How important is the work of Friends of the Koala?
The work of Friends of the Koala is extremely important if we want to ensure koalas survive in the wild.

Australia's koala is on the brink of extinction. For over 35 years, Friends of the Koala have been on the frontline of the battle to save the species.
With over 500 members, 170 active volunteers, and 8 staff, we operate the largest Koala Hospital on the East Coast of Australia, and this is the only Koala Hospital in the Northern Rivers, a region that is home to one of the last significant, genetically diverse koala populations in Australia.